A DJ & SAX PERFORMANCE THAT WILL WOW YOUR GUESTS
The DJ & Sax Package is essentially our Gold Package (if you're enquiring about a wedding) or our Premium Plus Package (if you're enquiring about private events) with a professional Saxophone player for the evening. Our sax player and DJ have been working together for years now and always make sure the event is special. We provide custom sets based on your preferences to really bring the vibe you are looking for. It really does make the event extra special.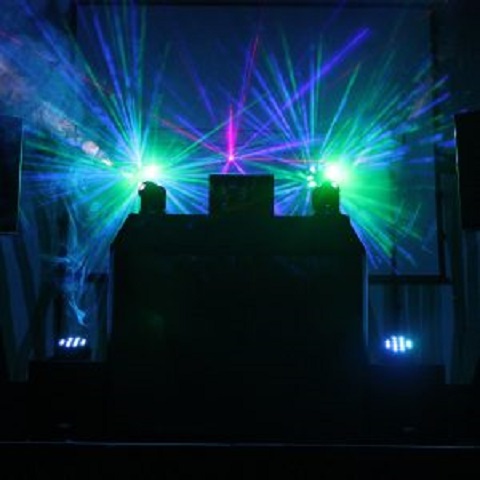 THIS IS WHAT WE DO
WHAT DO YOU GET?
PROFESSIONAL SAXOPHONE PLAYER
A Professional Saxophone Player will perform for 2 hours. Option to add a light up saxophone too.
GLOWING MOVING HEADS
Two professional grade moving heads mounted on glowing plinths in a colour of your choice.
THE PREMIUM FBT PA SYSTEM
2x 1000 Watt 15 inch FBT Audio Professional Speakers & 1x 700 Watt FBT Subwoofer. Speakers are mounted on speaker poles dressed in cloth to match your DJ booth.
THE PREMIUM LIGHTING PACKAGE
2x Centre Piece Disco Lights, 2x Lighting Cans, 1x Strobe & 1x Centre Piece Laser. These are mounted on a professional grade truss to create that centre stage feeling..
PREMIUM DJ BOOTH
A DJ booth with star light overlay (option to specify white or black cloth overlay).
DJ FOR UP TO 5 HOURS
K&P Events Specialist DJ for up to 5 hours.
UPLIGHTING
Uplighting behind the DJ booth in a colour of your choice.
WIRELESS MICROPHONES
We provide two wireless mics so you have freedom of movement during speeches and ceremonies.
VIDEO CONFERENCE MEETING
We offer a video conference meeting prior to the wedding to better understand your vision for the night.
WHY SHOULD YOU CHOOSE US?
OUR MISSION IS TO MAKE SURE YOU HAVE THE BEST PARTY IMAGINABLE!
We go the extra mile to make sure your vision is achieved for the night. We do this by providing top quality customer service, ensuring all our customers questions are answered in a timely manner, all of our customer requirements are met and everything is planned all the way down to timings and music selection. We understand this is your special night, and we treat every customer with the same care.
WE ARE PASSIONATE ABOUT MUSIC
That's right. We are absolutely head over heals in love with music! That's all types of music – from Hip-Hop to 80's Disco to House Music to Rock Music and everything in between. I mean, that's the sole reason why K&P Events was born. We were tired of attending private parties with an absolutely incredible sound system and breathtaking lightshow but listening to a DJ who can't string a mix together, poor song choices and no crowd control. We have been DJ'ing collectively for over 10 years at weddings, bars, clubs, birthdays – you name it, we've DJ'ed it! With K&P Events you can trust you'll have a DJ as good quality as the equipment they bring.
WE ARE INSURED
£5 million Public Liability Insurance covers all bookings made with K&P Events. Our equipment is PAT tested on a yearly basis and certified by an authorized individual. We understand the importance of insurance and adequate equipment maintenance and know it's important for venues that are only able to allow properly insured and tested supplies to operate. You can have piece of mind that your DJ supplier is properly insured with K&P Events. We can supply copies of our Public Liability Insurance and PAT certificates upon request.
PRICES STARTING FROM
£ 999
Professional Saxophone Player
Glowing Moving Heads
Top of the Range Lighting Package
Top of the Range PA System
Premium DJ Booth
Experienced DJ for the night
Uplighting
Wireless Microphones
Video Conference